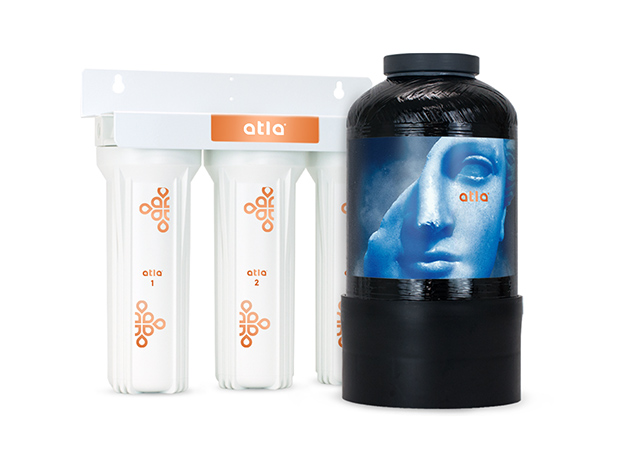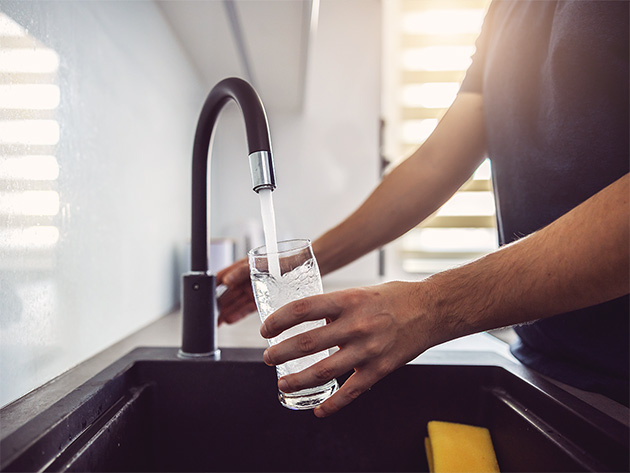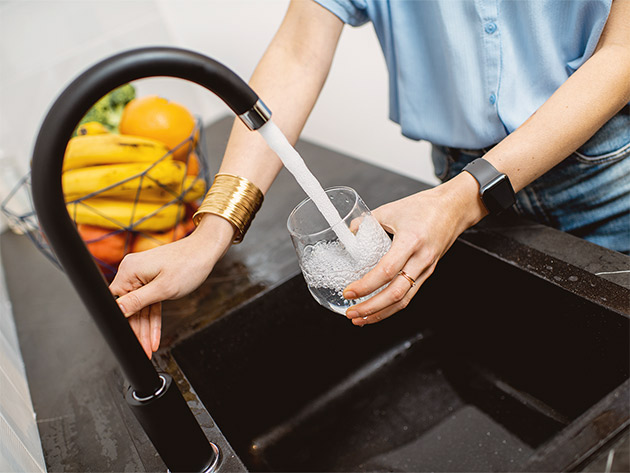 Atla In-House Water System
by Atla
No More Bottled Water! Alta's Advanced Technologies Go Beyond Purification to Create a Unique Lighter Tasting Water People Rave About
Description
Named for the mythical goddess of water, the Atla Water System recreates the spiraling dynamics of a mountain spring, producing soft, light-tasting, and easily drinkable water directly from your kitchen's faucet. Using 3 advanced technologies, Atla mimics natural processes to clean water, improve taste, as well as add minerals. Atla installs under the sink in 30 minutes or less for an endless supply of supernatural water you've got to taste to believe. Step beyond ordinary hydration. Summon the goddess and experience the sublime. Bottled water is now obsolete.
Atla In-House Water System has been tested to NSF/ANSI Standard 53. See complete data here
Vortex Energizer™ Technology

Increases Dissolved Oxygen (DO)
Improves Oxidation Reduction Potential (ORP)
Improves hydrating ability
Improves taste by producing a lighter, softer water

ActiveMag™ Technology

Increases alkalinity (pH)
Improves Oxidation Reduction Potential (ORP)
Adds the miracle mineral, magnesium, in its elemental form
NSF/ANSI Standard 60 Certified for purity & safety

Active8™ Purification Technology

Purification performance is 3rd Party Lab Certified
Removes chlorine, chloramines, lead, VOCs, & more
Environment-friendly purification medias
Preserves beneficial minerals & trace elements
"Love it. Had a reverse osmosis unit, got headaches all the time, and couldn't keep my blood pressure down even with medication. Started reading up on it and I replaced it with an Atla unit, headaches went away and blood pressure is normal."
– Jack F. - Nyssa, Oregon
"Best water ever!!! I have been using Atla for almost 3 years and have never felt better. The water is the only regimen I changed. During my lab tests for my physicals each 6 months, my doctor said I have the best urine tests he has EVER analyzed."
– James Strong - Prosper, Texas
"Hello, first I have to say I am in LOVE with this water! It is so light and refreshing, there is a difference in taste compared to the water I used to drink. I have experienced a few benefits and I continue to enjoy this water everyday."
– Jackie D., R.N.
Specs
Specs
Filter capacity: 1,000 gallons/1 year
Flow rate: 1 gallon per minute continuous
Purification module: 14"H x 15"W x 5"D
Revitalizer module: 16"H x 7"D
Purification media

FluorGon™ (aluminum-free fluoride reduction): Filters Fluoride, Chromium, Arsenic, Aluminum, et al
KDF® 55: Filters Lead, Iron, Manganese, Mercury, et al
5-micron Catalytic Coconut Carbon Block: Filters Chlorine, Chloramines, VOC's, Radionuclides, et al. Blocks particles >5 microns
0.5-micron Activated Coconut Carbon Block: Filters particles & organisms >0.5 microns. Removes taste & odor

Installation

Connects to the cold water side of your existing kitchen faucet
Parts for common installations included with system purchase
‍Filter Set FS300 included with system purchase

Atla Systems are constructed with NSF Certified Components to ensure safety and performance
Crafted and warrantied by Atla of California, USA
The Atla Water System is warrantied against material defects for two (2) years. The warranty does not cover abuse or any property damage, including flood and/or water damage
Includes
Atla Water System
Filter Set FS300
Parts for Common Installations
Shipping
Ships to US
Expected Delivery: Aug 22 - Aug 30