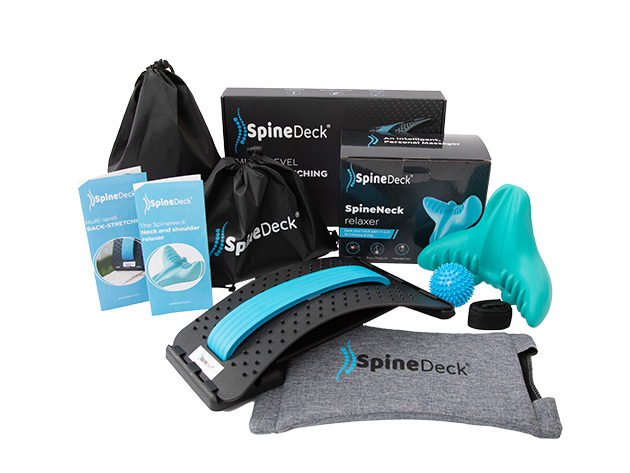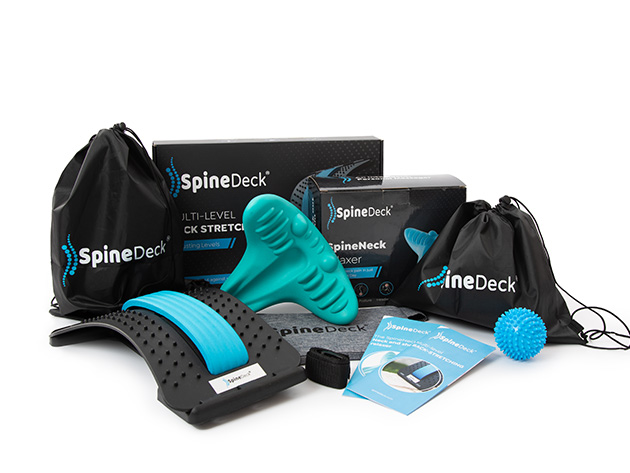 SpinePack: Total Body Muscle Relaxation
by SpineDeck
Relive Body Pain & Relax Your body Using This Complete Body Orthopedic Pain Relief Pack
Description
Combat muscle tension, back and cervical pain with the brand new SpinePack. Daily activities, sitting all day, extended computer usage, or physical activities can lead to spine and posture imbalances. Upon popular demand, this whole body tension decompression kit is released to help you relax your entire body, even from the most hardly accessible places like the foot sole or shoulder blades. The SpinePack includes the SpineDeck 2.0, SpineNeck, SpineCushion, and the Spike Ball.
Featured on Women's Health, Today, Men's Health, and Forbes!
SpineDeck 2.0 Back Stretcher
Relaxation & relief. Helps relieve muscle pain and stress
Spinal cushioning. For comfortable relaxation
88 plastic pins. Help activate natural healing response & improve blood circulation
3 slots for height adjustment. The higher the back stretcher lifts, the stronger stretch you will get
Sturdy material. Can withstand weight up to 450lbs
Ergonomic design. Provides better spinal alignment & efficient acupressure massage
Foam pad in the center. Gives cushioning to ensure your spine feels comfortable
Multipurpose. Can be used whenever you are lying or sitting
Chair holder. Easily attach the SpineDeck to any chair
SpineNeck
For neck pain relief. Employs an incredible combination of acupressure, occipital muscle stimulation, & cervical relaxation
Body curve design. Flexible yet strong spinal support & soothing back relaxers
Massage spots. Gets muscle relaxed under the force of gravity
Fully portable. Use it anywhere - in offices, hotels, sofa, bed, car, & more
Spine Cushion
Added comfort. Easily attaches on top of the bending arch of the SpineDeck
Extra blue strip

Can be easily slotted in the 2 holes at the top of the SpineDeck
Designed to protect your spine while allowing the acupoints do their job

Foam interior. Covers up the entire top surface of the SpineDeck
Spike Ball
Massage ball. Designed to release tight & uncomfortable muscles and increase blood circulation in hard to reach areas
Variety of ways to use

Sit or lay on the ball
Press it against the wall using your back & move side to side and up and down for a back massage
Use your hand to roll the ball in a circular motion on your body
Roll the ball under the foot whilst sat down

200+ pressure points. Designed for anyone looking for a muscle tightness reliever, whether doing yoga, athletic cross-fit, weightlifting, fitness, & more
Versatile. Perfect for an all body massage
Along with all of the products described above, the SpinePack comes with carrying bags for all the products, so you can easily take them anywhere as well as boxes to store them securely.
NOTE: The above products are designed to help with muscle relaxation and are not to treat problems or ailments in the neck spines, back, shoulders, etc.
Specs
Specs
SpineDeck

Color: black, blue
Dimensions: 3"H x 15"L x 10"W
Personalized stretch: 3 levels
Spinal cushioning
Plastic pins: 88
Perfect for beginners & advanced users
Durable, high quality material
Max weight capacity: 450lbs
Ergonomic curve

SpineNeck

Color: blue
Acupressure triggers
Strong spinal support
Body curve design
Use time: as fast as 10 minutes

Spine Cushion

Color: gray
Extra strip: blue
Foam interior
Entire surface cover

Spike Ball

Color: blue
Spiky roller ball
Multiuse

Designed by doctors
Portable
Manufacturer's lifetime warranty
Includes
1x SpineDeck™ 2.0 Orthopaedic Back Stretcher
1x SpineNeck
1x Spike Ball
1x Comfort SpineDeck cushion
2x Carrying bags
2x Instruction manual
1x Chair holder
Free weekly updated digital surprise on how to deal with back pain
Shipping
Ships to US
Expected Delivery: Dec 14 - Dec 21
Expected International Delivery: Dec 15 - Dec 23
All reviews are from verified purchasers collected after purchase.
Everything is working great I feel great after using this what a relief. I just love it works out the kinks...
Apr 16, 2022